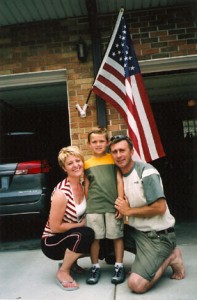 When about 200 protesters gathered outside Georgia's Gold Dome last week to support or oppose the passage of a law devised to crack down on the state's illegal immigrant population, there were the usual signs and shouts that go with public debate over citizenship.
In the midst of the anger and passion, it was almost impossible to remember the common ground shared by even the most fringe characters of the two sides, those who vehemently oppose giving any kind of legal status to illegal immigrants, and those who want open borders.
What common ground? The recognition of the fact that the federal government, under Clinton, Bush and now Obama, has taken a shameful pass on a problem that is squarely its own to solve.
In Georgia, the two sides of the national debate are most clearly represented by D.A. King, often described by Jerry Gonzalez as an anti-immigration activist (and sometimes as a convicted felon), and Jerry Gonzalez, who is often described by King as any number of not very flattering things the most mild of which is an open-borders supporter. King is the head of the Dustin Inman Society, and Gonzalez, his nemesis, is the head of the Georgia Association of Latino Elected Officials. The talk between the two often gets ugly, but any hope for a sane approach to immigration issues relies upon them, and others like them, coming together to force the federal government to do its job.
Georgia's recent move to adopt an Arizona-style measure requiring identity documentation and the deputizing of local police to enforce federal immigration laws was an act of desperation, as was clear from the comments of weary legislators who said "The federal government has failed us."
Both sides—people like King and Gonzalez—have been utterly abandoned by a government that lacks the integrity and courage to solve the problem because the problem itself has become a political tool used to garner votes and money.
Both sides—people like King and Gonzalez—have been utterly abandoned by a government that lacks the integrity and courage to solve the problem because the problem itself has become a political tool used to garner votes and money.
Arizona and Georgia have no business making immigration laws. They have been forced to do so because Congress and our president will not. And yet, President Obama, well-educated, intelligent, and the son of an immigrant himself, may be the best positioned of all our presidents to tackle the issue. He should do it. As presidential legacies go, immigration reform would be a quite a feat.
America's immigration system is a world-renowned mess, and certainly not just because of our nation's switch in the way it views Mexico and Latin America, not just because of the "new" threat of terrorism, not just because of the development of the global marketplace. It is also a mess because of documented abuses by American immigration officials, the tacit use of green-card slavery among business owners, and even the government itself. It is also a mess because of perfectly legal, though inflexibly illogical, provisions in applying for citizenship.
One real-life example of its many pitfalls is the tearing apart of a Polish-American family (pictured above) chronicled in the documentary "Tony & Janina's American Wedding" which will premier this evening at 6:30 p.m. at the Plaza Theatre on Ponce de Leon Avenue. Tony and Janina Wasilewski, after 18 years of marriage, raising a family, owning a home and running a business, were forcefully separated when Janina and their six year old son were deported. Ironically, she had fled Communist Poland to come to America.
CAN THEY DO IT?
Our citizenship process was bound to become a roiling disaster when, in the 1960s, the State Department set out to make immigration a tool for racial equality, designating a roughly 7-percent contribution of immigrants to America from each one of Earth's nations, sort of, kinda, maybe; State Department officials I've interviewed say quite freely that the number allowed from each country is in reality a moving target and the equation that set it up requires it to be so.
That's the problem: Immigration to America has more to do with whims and guesswork, with who you know and how lucky you are, than with an orderly system that matches the needs of the country to the needs of those who want to come here.
It's an end-sum equation and end sum immigration doesn't work because it doesn't take into account the changing face of the world, the way that nations dissolve and are reborn, how the population of economic refugees ebbs and flows. Think of how many new countries emerged after the break up of the Soviet Union in the late 1980s and early 1990s. How long did it take the State Department to get its immigration requirements aligned with that? They're still not, not really. And what about the change in our border relations with Mexico? For most of our country's history, Texans knew where the border was but they and their neighbors to the South meandered in and out of each other's territory as if they were inhabitants of neighboring states rather than an internationally recognized border region. That changed as Mexico's own fortunes have varied and as the U.S. has taken less of an interest in making sure Mexico remains stable—essentially capitulating to those who claim we meddle too much, a faction of naïfs who refuse to accept that any country that borders another has a vested interest in the welfare of its neighbor.
The answer is for groups like King's and Gonzalez's to get together on the points they find least acrimonious, craft some compromises and present a united front in pushing for immigration reform in Congress. For example:
A strong border. Neither side disputes that America's border needs to provide defense against terrorists, drug dealers, human traffickers and other criminals.
A fast-track to citizenship for those who risk their lives as soldiers in the American military.
Recognition of English as the official language of the United States. Most academics agree that language must be a uniting factor, not just for the ease of the American majority, but for the legal protection of immigrants. Sen. Johnny Isakson, one of the few politicians in Washington who has actually taken a firm and moral stand on the matter, has said that we have a responsibility to teach English to the children in our schools. He wisely didn't offer any qualifiers to that; in the context of language, it doesn't matter how they got here, it is in my best interest and yours that people who live in this country speak the language.
Replace simple birthright citizenship with a more European-style concept of  a "genuine connection" to American society. This provision, as explained by Yale University law professor Peter Schuck in the New York Times last August, would "give birthright citizenship to children of illegal immigrants who have lived in the country for some time — Britain, for example, requires 10 years and no long absences from the country. Congress should do likewise, perhaps conditioning birthright citizenship on a certain number of years of education in American schools; such children could apply for citizenship at, say, age 10. The children would become citizens retroactively, regardless of their parents' status."
Can King and Gonzalez do it? Can two groups who have said and done terrible things to each other for so long come to terms for the greater good? If they did, they would set a shining example for others throughout the country. Granted, the suggestions above are only a few areas of near-mutual consent, but these small steps for Congress would be a giant step for America. SR