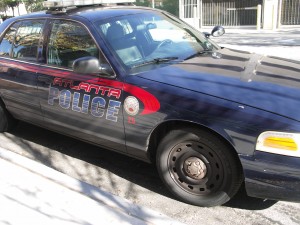 Mayor Kasim Reed will be riding around in a new Denali, courtesy of Atlanta's taxpayers, while some Atlanta Police officers are driving cars with slipping transmissions and no working laptops.
The Atlanta Journal Constitution is reporting that the mayor has upgraded his ride because, according to COO Peter Aman, the GMC Yukon Denali is safer than the sedan the mayor was driving. The AJC quotes a security specialist in Dallas, Texas saying that an assassin would have an easier time bumping off the mayor in the Ford Taurus previously allotted to him.
What are Atlanta's city officials so worried about? In addition to the mayor's new semi-military SUV, City Council President Ceasar Mitchell ordered security officers to sit in on council meetings beginning this month.
The Texas security consultant also says that other cities have long since switched to big SUVs like the Denali for their top officials.
But are those cities battling the financial crunch that Atlanta is? The mayor has spent at least $120,000 on two Denalis—one for himself and one for the police department to use for visiting dignitaries. Meanwhile, there are APD officers who are risking their lives, not in nabbing dangerous perps, but by simply getting behind the wheels of their ragged-out jalopies. The city does, incidentally, have new cars for the APD, but they have not been deployed because they are awaiting things like video camera installation—and have been awaiting it for months. SR