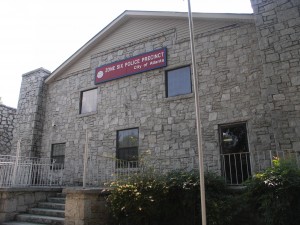 Last week, the Atlanta Police Department began collecting citizen input for its zone and beat redesign. Town hall meetings on the matter will continue through March (see below).
The redesign is based on "calls for service," essentially calls to 911 that require police response. The goal is to use the recent influx of recruits to shrink each beat—the area patrolled by an officer—and add some beats, so that police can respond to calls more quickly.
In offering up a draft of the redesign last month, APD included the total number of calls for each of its six zones. But, the kinds of calls cops are responding to is every bit as important as the number of calls. Some calls take longer than others. The calls are so varied, from checking on elderly residents to trees falling, to rapes, robberies, and "disorderly children," that simply slapping a total number on a zone when determining its manpower needs doesn't make much sense. And maybe that's not what APD will ultimately do, but recent events suggest that those in charge may not be matching manpower to the type of calls the zones are getting.
Friday night, for example, there were 13 rookies working in Zone 6. That's a lot of newbies in what may be the most complex of Atlanta's zones: Z6 spans the entire socio-economic spectrum, from striking poverty in Thomasville to the posh areas around Ansley Mall and Morningside. The large influx of fresh recruits had older officers feeling edgy as they were stretched thin to supervise.
The problem of appropriately matching manpower-to-need isn't limited to unleashing rookies in large numbers, it also cropped up in January when APD organized a deluge of transfers. Among them was that of Investigator Scott Priestly from Zone 4, the southwest corner of the city, to Zone 1, which includes the neighborhoods of Vine City and English Avenue as well as the west side of the area around the Georgia Dome.
Priestly was recognized last week by the International Association of Special Investigation Units for his work in solving auto theft cases. The IASIU specializes in investigating insurance fraud. Priestly was honored with its public service award for his high number of cleared cases. That's not surprising given that he worked in Zone 4, the city's hands-down highest ranking area for auto theft. Last year, between Jan. 1 and Sept. 1, according to information provided by the APD, Zone 4 saw 1,092 vehicle theft cases. What is surprising, however, is that Priestly, a veteran whose career has focused on solving auto theft, was transferred to Zone 1 which has the second lowest number of auto thefts in the city—only 661 between January and September of last year. Priestly's recognition for a particular kind of crime-solving draws attention to his transfer, but he likely isn't the only cop who got shoved out of an assignment that fit his skill set.
When it comes to investigators, the APD has a bigger problem: Chief Richard Pennington's decentralization of investigations. Under Pennington, the department moved investigators into the zones, intending to make them work more closely with neighborhoods, and that remains the configuration today. It matters in terms of crime-solving because with investigators divided by zone they don't always recognize that a crime trend in, say, Downtown, is probably being perpetrated by the same crew responsible for it in East Atlanta. After all, the detectives may be split by zone, but the thugs operate citywide.
WHOSE BEAT IS IT, ANYWAY?
APD is making a concerted effort to include community input in its zone redesign over the protestations of some officers who say it should be up to the police to decide how to distribute personnel.
With that in mind, please get a look at the following chart I've compiled based on APD calls for service (chosen randomly for the sake of variety) from Jan. 1, 2010 to Sept. 1, 2010. These numbers are an education in the character of Atlanta. And, in the midst of more somber issues, they raise some really strange questions: Why do people scream so much more in Midtown than in Grant Park? Why are there so many more demented people in the southwest part of the city than Downtown where they seem more visible? And why does the number of peeping toms in Zone 6 more than double that in Buckhead/Brookhaven or the southwest corner of the city? And who gets charged with "disorderly children"?
RANDOM CALLS FOR SERVICE FROM JAN. 1, 2010  TO SEPT. 1, 2010
TYPE OF CALL
ZONE 1

English Avenue, Vine City. Atlanta University Center and area west of Georgia Dome

ZONE 2

Buckhead, Brookhaven

ZONE 3

Grant Park, Mechanicsville, Pittsburgh, Capital View, Mount Zion Road area

ZONE 4

SWAtl,   West End, Cascade

ZONE 5

Downtown, part of Midtown, Home Park, Westside

ZONE 6

Thomasville, Kirkwood, East Atlanta, part of Midtown

Transporting person to homeless shelter
3
3
13
10
100
4
Check on elderly resident
140
147
151
199
174
142
Tree down
47
78
46
84
17
68
Abandoned vehicle
705
334
937
703
332
586
Recovered Auto
164
86
454
258
120
229
Kidnapping or Hostage
14
8
17
12
12
4
Disorderly Children
653
154
846
713
229
439
Disorderly children with weapon
31
4
29
31
1
8
Demented person
387
98
362
428
419
188
Shots Fired
868
227
931
892
300
701
Public drunk
155
211
168
196
599
286
Fight
8,835
2,747
9,062
9,812
8,073
4,659
Audible alarm
4,299
12,240
6,102
8,791
5,176
7,849
Animal call
352
120
446
351
96
168
Auto Accident
1643
4474
2445
2411
5764
3028
Business Robbery
10
24
25
23
13
31
Pedestrian Robbery
217
62
202
243
328
149
Residence Robbery
20
9
18
13
8
12
Carjacking
47
7
37
40
19
25
Vehicle Theft
661
564
1015
1092
870
666
Rape
32
14
45
33
42
19
Person Shot
100
7
109
104
60
66
Suicide
206
131
209
230
404
180
Prostitution
343
22
616
55
416
84
Peeping Tom
6
5
9
5
8
13
Person Screaming
75
70
58
64
82
71
Public Indecency
95
155
95
123
382
112
Abandoned Children
33
27
58
59
41
25
Snatch Thief
78
48
62
80
149
44
Illegal Parking
588
716
436
275
2193
1158
Residential Burglary
953
416
1103
1139
215
488
COMMUNITY MEETINGS FOR REDESIGN INPUT: 
Click on zone to see a map of its proposed redesign. (The meeting for Zone 3 was last week.)