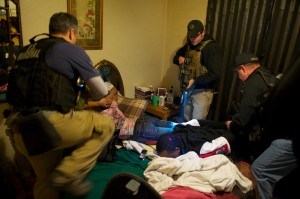 The Atlanta Police Department and the U.S. Marshals Service made 46 gang-related arrests this week in what marshals describe as a "surgical operation." The arrests were carried out in the Mechanicsville, Pittsburgh and Cleveland Avenue areas of Atlanta.
"Operation Zero Deep" was quickly organized after a "violent attack on a witness from the Jonathan Redding trial," according to the USMS. Redding, who is affiliated with the 30 Deep gang, is being tried for the January 2009 murder of John Henderson, a bartender in Grant Park.
The arrests were announced today at a 10 a.m. press conference at the USMS offices in Clayton County.
James Ergas, a supervisory inspector with the USMS said the operation was "surgical" because the individuals arrested were specifically named in warrants. Officials took pains to say the arrests of 37 associates of 30 Deep, and nine others for violent crimes and drug trafficking, was not a "round up."
But the real problem, as illustrated by the shooting of Eddie Pugh, the star witness in the case against Jonathan Redding, is how to keep witnesses safe so that violent gang members can be effectively prosecuted and put behind bars.
"We are working very closely with the D.A.'s office and U.S. Attorney Sally Yates to make sure we can do that and keep the criminals behind bars," Atlanta Police Chief George Turner said.
No representative of Fulton County District Attorney Paul Howard's office attended the press conference nor has his office publically explained the challenges in keeping witnesses safe, though Howard did tell the Atlanta Journal-Constitution in February "It doesn't take a fool to see this is quite a coincidence."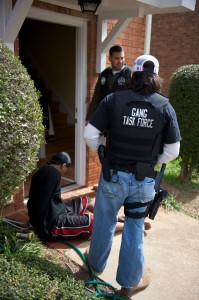 Ergas, with the USMS, explained after the press conference that one of the best ways to reassure witnesses that they will not be retaliated against by other gang members is for the court to hand down lengthy sentences to members convicted of violent crimes.
He used the example of the Black Mafia Family prosecutions, explaining that once a particular member had been sentenced to more than 30 years, other members felt safe in coming forward with information.
In January, members of 30 Deep beat a fellow gang member in the Fulton County Jail when he provided testimony against gang leader George "Keon" Redding in that Redding's murder trail—the two Reddings are cousins—which ended in a conviction.
In early February, Eddie Pugh, a key witness in the case against Jonathan Redding, was shot while working on a car before he could give testimony, which delayed the trail by a month while his shot leg was amputated and he recovered.
Last October, witnesses in the murder trial of several members of the "9 Trey Blood" gang were attacked by other gang members in jail.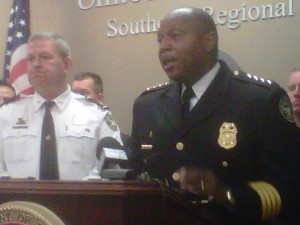 Operation Zero Deep targeted gang members related to 30 Deep, but it also netted other gang affiliates because Atlanta's gang scene is quite fluid, explained Maj. Chris Leighty, head of the APD's gang unit. Members may be affiliated with several gangs at once and gangs often coalesce to work on the commission of certain crimes.
Ergas said that in addition to the gang members targeted by warrants, officers were also able to nab other criminals because the Georgia Department of Corrections loaned some manpower and when someone on probation was found in the company of the fugitives sought by APD and the marshals, a drug test was administered on site; if the probationers were found to be in violation of their probation through drug use or other activity, they too were locked up.
Eight firearms were confiscated during the busts, along with two vehicles, $8,000 in cash, 2 pounds of marijuana and "distributable" amounts of ecstasy and cocaine.
USMS Chief Keith Brooker summed up the message intended to be sent by the operation: "If you want to be tough, to be bad, to commit crimes, we are going to hunt you down and you are going to prison."
Of course, that depends on the Fulton County D.A.
SR
Arrest photos courtesy Shane T. McCoy/US Marshals, Leighty and Turner by Stephanie Ramage