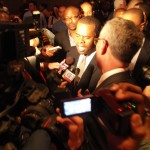 Atlanta Mayor Kasim Reed's spokeswoman, Jennifer Ogunsola, sent me the following in response to my column "New York Times' Friedman Woefully Wrong on Mayor Reed" (which you can scroll down to read). That column was written in response to the New York Times column by Thomas Friedman titled "Cut Here to Invest There" which characterized Reed as one of a new breed of politicians, a "pay-as-you-go progressive." I strongly disagree. I believe Reed has demonstrated himself to be a traditional tax-and-spend liberal (he's at least fiscally liberal—his opposition to gay marriage certainly lands him outside the liberal camp in terms of social issues). In his first year in office, Reed has set expenses and then devised new and higher fees for small businesses as a way of raising revenue. While the mayor makes some good points in the following response, most of his requested "corrections" are themselves inaccurate. So with that in mind, I have taken the liberty of responding to them here.
Mayor's Office: Your column, "New York Times' Friedman Woefully Wrong on Mayor Reed," has several factual inaccuracies which should be corrected. First, when the Reed administration came into office in January, the City of Atlanta, in fact, had only $7.4 million in reserves and also faced a projected budget gap of over $40 million for the next fiscal year. By managing the budget and curbing spending during the first six months in office, the Reed administration built up the City's restricted reserves to $58 million by June 30, 2010. This is a fact confirmed by the unaudited closing of the books at the end of the fiscal year and does not include additional savings from the current fiscal year, which ends on June 30, 2011. It is worth noting that the budget gap was closed and the reserves were increased eight fold without a tax increase.
Ramage responds: The $58 million which you cite is the fund balance, not the reserve. According to the City charter, the City's actual reserve is about $27 million. Much of the fund balance you cite, as explained in the Atlanta Journal-Constitution's Jan. 4 "Truth-o-Meter" comes not from the Reed administration, but from the Franklin administration, a fact that should appeal to common sense because, after all, the May 2010 budget was put in place a mere five months after Reed took office. It is interesting to note that although the AJC—Reed's fan publication—gave Reed a "mostly true" rating, the companion article's interview with Councilman Howard Shook, immediate past-chair of the finance committee, shows that Franklin's staggering 42 percent property tax increase coupled with the largest layoffs in City history are the source of much of Reed's $58 million fund balance. Deputy COO Duriya Farooqi told the AJC that she sees no reason to think the numbers will change dramatically in 2011. Well, that is wistful thinking. There is little doubt that Atlanta's property tax digest has been depleted. Check back with me during this year's budget proceedings and we'll see how that fund balance is doing.
Mayor's Office: The column questions the validity of the 70 percent approval rating mentioned in the New York Times column. The poll, conducted in June 2010 by the nationally recognized firm Anzalone Lizst Research, was county-wide and not a "typical 404 area-code phone survey" as the column suggests.
Ramage responds: Then I am correct in my assertion that the survey took in people who do not live under the outrageously inept policies of the Reed administration. The City of Atlanta takes up only a very small portion of Fulton County, and thanks to the AJC's relentless spinning on behalf of the Reed administration, the suburbanites have been led to believe—quite erroneously—that he is, as Friedman said, a "pay-as-you-go progressive." The survey was taken in June, before the soaring water rates, PARKAtlanta's abuse of residents and visitors, the climbing homicide rate, and the new business permit fees had become too burdensome to ignore even out in the areas where all people know of Atlanta is what they read in the AJC.
Mayor Reed: During the final FY2011 budget negotiations, there were in fact meetings between the Mayor and various union representatives and workers to discuss both salaries and pensions. Mayor Reed met with hundreds of workers – in shifts – throughout the day on June 25, 2010 to hear and discuss their concerns. Simply put, the savings created by modifying the pensions helped to fund the bonuses that were a part of the discussion with union representatives held in Mayor Reed's office. Even a cursory review of other media outlets such as the AJC, WAGA Fox 5, and WXIA-11 would have revealed this.
Ramage responds: Actually, review of such footage would reveal that, on June 25, they were there for a pay raise, not to protest pension cuts. Friedman's column refers specifically to union picketers swarming City Hall to protest pension cuts, which is not true. Here is what Friedman said: "Reed couldn't cut existing pensions without lawsuits, but he cut back pensions for all new employees to pre-2000 levels and raised the vesting period to 15 years from 10. When union picketers swarmed city hall to protest, Reed invited them all into his office — in shifts — where he patiently explained, with charts, that without pension reform everyone's pensions would go bust." This is a gross misrepresentation of the facts. The "swarm" of "union picketers" was actually made up of hundreds of general employees who were there to protest the fact that the bonus they were being given was considerably less than the raise being given to police and firefighters. The topic was not pensions. Friedman's portrayal of the mayor—one he was no doubt led to by the mayor's office—as a tough union-buster is malarkey. As I said in my column, and I would know because I was there, pensions were not the problem that day. And as for that bonus for general employees, as I said in my rebuttal of Friedman, not only did the mayor give it, but he increased it. Some union buster. And what sort of triumph would that be, anyway? Here in Georgia, unions do not have collective bargaining power. Your office's insistence on this image of Reed as fierce union buster is as laughable as saying Stephanie Ramage single-handedly fought off a chickadee. Reed clearly wants to position himself on the national stage as the chief slasher of public employee pensions because his fellow politicians, both Democrats and Republicans, would be in his debt if he managed to get Georgia's pension laws changed, but the move is, first of all, wrongheaded (for reasons I will explain in a separate column), and the Friedman column is a bizarre distortion of what really happened that day at City Hall.
Mayor's Office: The assertion that the consulting firm Bain & Company has received paid city contracts is completely false. Bain & Company has never received one penny of City of Atlanta funds for the consulting work it provided the City during the administration of former Mayor Shirley Franklin and now, Mayor Reed. Over the years, Bain has donated more than $7 million in free services. In fact, in 2002 when Bain promised to work pro bono for Mayor Franklin, the firm committed to never accept paid work from the City during her time in office. This commitment was extended when Peter Aman took a leave of absence from Bain to join the Reed administration as Chief Operating Officer. The firm pledged not to accept paid work from the City during Mayor Reed's time in office.
Ramage responds: First, let's clarify what pro bono means. If you look it up in the American Heritage College Dictionary, you'll find "Done without compensation, for the public good." Bain & Company is a consulting firm that did work for the City without charging the City for the work. Was there compensation? I should say so—Peter Aman, the man who did the work, is now Chief Operating Officer for the City. I like Aman, I think he's smart and one of the bright spots in the Reed administration, but Friedman describes Reed's hiring of Aman as a break from cronyism in a way that indicates that Aman came onto the scene as an outsider. He was nothing of the sort. Aman had worked closely with Reed's predecessor, Shirley Franklin, for years. I erred in saying most of Bain & Company's work was pro bono when it turns out that all of it was pro bono, but I was perfectly on point when I said that in the political arena there is no such thing as real pro bono. Aman's relationship with the City is proof of this maxim.
Mayor's Office: It is simply inconsistent to claim that the City has both settled lawsuits too quickly, and that it has not resolved lawsuits quickly enough. Every lawsuit must be analyzed on its individual merits, and decisions must be made which keep the City's overall best interests in mind. Strikingly, you failed to mention the fact that every lawsuit referenced in the article was filed prior to the Reed Administration taking office. This is a significant fact that is critical to the underlying assumptions made in the column.
Ramage responds: As a matter of fact, I never said the mayor settles lawsuits too quickly or not quickly enough. What I said was: "Pay as you go? Reed pays off lawsuits by the millions as they go…With the City of Atlanta caught paying millions to a crony of Maynard Jackson's for an airport contract she didn't even manage, and having a federal judge say that was indeed the case, what steps has Reed taken to correct the situation? When the decision in the Corey lawsuit was announced, Reed's response was that the City was looking into an appeal–apparently hoping to spend more taxpayer dollars in defending the City's practice of squandering taxpayer dollars." I didn't point out that both the Corey lawsuit and the Eagle raid lawsuits were filed before Reed took office because, in fact, my concern was with Reed's response to them, not with the activities of previous administrations. Reed responded to the years-old Corey lawsuit's culmination—which happened during his administration—by vowing to spend more tax money in defending a system of cronyism. That lawsuit cost the city $3 million, just in the court-ordered payment, to say nothing of how much tax money was wasted on the City Law Department's time and expenses. As to the Eagle lawsuit, it was filed Nov. 28, 2009, after run-offs were underway in the mayoral campaign that saw Reed elected in December 2009. Reed took office in January 2010. Had Reed agreed to discipline officers involved in the September 2009 raid on the Eagle bar and apologized to the citizens harmed by it last February, the taxpayers likely would not have had to pay more than $1 million for the APD's snafu. To this day, I believe that the prolonged legal fight was an effort to protect members of the brass, past and present, who planned an unconstitutional raid, and Reed's part in that defense is his responsibility.
Mayor's Office: The column incorrectly states that the sale of the Atlanta Detention Center was integral to the FY2011 budget, when, in fact, it was not included as part of the final budget that was approved by the Atlanta City Council. The inclusion of jail proceeds in the budget was discussed during the budget process, but the administration supported the proposal to fully fund operations at the Atlanta Detention Center in the FY2011 budget.
Ramage responds: You got me. Initially, with the mayor's encouragement, the jail sale was to be included in the budget, as verified by a review of budget discussions, however, the council pushed to extend the jail's portion of the budget into 2011. The sale still has not come to fruition.
Mayor's office: The investments made for 100 sworn positions, public safety pay increases, and the opening of recreation centers cost over $12 million. These investments would not have been possible without equivalent cuts in operations as well as savings from the initial pension changes included in FY11. The Reed Administration chose to make those reductions to fund the investments in public safety, as correctly noted by Thomas Friedman in his New York Times column.
Ramage responds: What Friedman failed to note, however, was that the cuts to pensions for new hires yielded $8 million and Reed turned right around and spent $10 million on a new frivolous expense, a trolley that nobody needs and few people want. I'm not arguing that he's not paying as he's going, I'm just arguing that he's paying money we haven't got to go places we don't need to go. The 100 new hires for the police force were largely funded through a federal grant, not through Reed "cutting here to invest there" as Friedman and Reed claim.
Mayor's Office: In closing, it is important to note that the Reed Administration values the vital role that the media play as critics, who hold government accountable. We believe a robust and active press is an essential part of good government. But just as we embrace the importance of your role, serious journalists embrace their responsibility to report accurately even in the context of editorials that offer criticism.
Ramage responds: I hope that my responses here have served to reassure you of my devotion to reporting accurately.